Facts on Cavapoos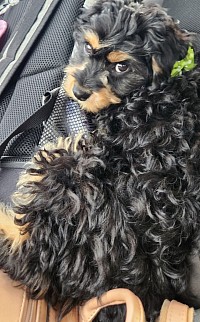 Cavapoo
Facts on Cavapoos 
  Meet the breed.                        
 Cavapoo have Big HEART FROM KING CHARLES, KIND SWEET COMPANIONS THAT HAVE COMPASSION FOR THEIR OWNER AND DESIRES TO BE OBIDENT WITH A BIG HEART FILLED WITH JOY AND LOVE AND KINDNESS.

 CAVPOO FACTS TEMPERAMENT 

Cavapoos love kids and with the elderly.  Both large and small and get along well with other animals, in the household. But that pleasant, people-focused. Enjoy mind playing games.

CAVPOO COATS GROOMING 

SHEDDING All dogs shed,  BUT CAVPOOS DONT SHED. 
PEOPLE with ALLERGIES  this is a good breed due to their Low dander, for allergies and no shedding; bonus.  Best both worlds in one puppy butt..  DOGS THAT REDUCE ALLERGIES breeds available that reduce allergies symptoms that are symptomatic to this allergy some or prone to to be allergic to.Their hair is similar to a Maltese and a shihipoo, buy curly and little more softer and shiner. Grows 6 to 10 weeks should get it cut ✂️. CAVAPOO
GROOMING ONCE EVERY will depending  on his age and haircut. The Miniature Poodle parent gives the Cavapoo a long-growing, curly coat. Unless this hair is kept short, you should expect to give your pup a quick brush daily and bathe and blow-dry every 2 to 3 weeks. Hair cut ever 6 to 10 weeks ✂️.Also every 5 weeks look at his eyes you can trim his hair that wants to grow in front of his face. So he can see.  Be sure to use dog care and safety tips from your veterinarian, and your pet groomer, and use pet grooming equipment and be safe and also be confident. It's not alot but a very important spot.I clip mine with dog made scissors and for the shihipoo I use dog face razor after clipping with a kindergarten scissors before my dog scissors ✂️ that are curved at the end to prevent any injuries. Be sure your pet does not move to fast and your not pulling on the hair with scissors.  Then you can cut the main part of the eye.I just take the hair that is growing in their eye. Hold together.  Snip we are done.Check with the professionals listed above before trying any of this.
CAVPOOS TRAINING

Rather easy with LITTLE PATIENCE when TEACHING.  POSTIVE results keeping a kind Attitude, VERY IMPORTANT 

Since they come from people-oriented parent breeds, Cavapoos don't react well to harsh voices, harsh training methods and disharmony. Their high intelligence makes them easy trainers that respond better to positive reinforcement. A calm, soft response to any misbehaviors will get you the result you want much sooner than harsh or extreme reactions. 

   CAVPOO EXCERCISE

Cavapoos have loads of energy. They need daily exercise and lots of mental stimulation like trick training or intelligent toys. Not known for being barkers, they grow bored when left alone too much, resulting in barking and destructive behavior. These dogs LOVE brain games and romping through the yard after kids. In addition, your Cavapoo will need lots of attention from you to remain well-balanced.

CAVPOO LEARNING 

With a kind attitude Cavpoos will learn Rapidly and loyal companions.

This breed is even a good choice for a certified  for a THEOPORY DOG.

Has all the good qualities, as well as none of the shedding. Their hair and low dander is a Perk.

FINDING YOUR NEW FAMILY MEMBER IS FUN AND BEST EXPERIENCE TO LOVE A NEW EDITION. I AM HERE TO HELP YOU, find your new and perfect loving healthy blessing, that fits right in and could not imagine life without them. May God Guide your way. 

How big or parents 8lb and 12lbs  More questions and and answers coming soon. Photos of parents coming soon. On first page at the bottom photos of parents of Cavapoo puppys.